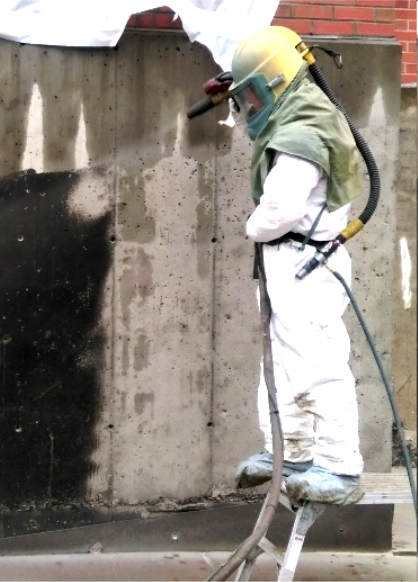 What is Soda/Media Blasting?
In the past, the only way you could remove paint or some other unsightly material from a contaminated surface, was to either chip it off, sand blast it, use harsh chemicals, or sand it until your arm fell off, or your equipment failed. In most cases, after these time consuming, or hazardous methods are discarded, the final solution was just to paint over it and hope no one noticed.
There is now a process, known as Soda Blasting, where a surface is cleaned or paint is removed or coatings of any kind are stripped from a substrate both efficiently and safely. It is very similar to traditional sand blasting yet has the significant advantage of cleaning the surface without causing any harm to the substrate or the environment.
Applications
From the removal of graffiti from brick and concrete to the cleaning of boat bottoms, from the removal of carbon, char, and odors from buildings damaged by fire to refurbishing stainless steel kitchen equipment, from removing oil and grease from engines to removing offensive odors in stairwells, from cleaning washrooms in manufacturing facilities to removing paint from brick and steel, from removing rust and paint from cars to line removal off highways, the soda blasting approach has proved to be successful time and time again.
Soda/Media Blasting Can Be Used For:
Paint Removal
Engine Parts
Brick & Concrete
Hard Wood
Odor Elimination
Cleaning Boats
Line Removal
Rust Removal
Cars-Paints/Rust
Stain Removal
Airplane Parts
Graffiti Removal
Fire Restoration
Marking Removal
And More!
Benefits of Our Approach:
Equipment is easy to use
Equipment is transportable, in many cases a one-man operation
Set-up time is short
Media is environmentally sensible (USDA Approved as an A1 cleaner)
Media is water soluble, gentle yet effective
Media is safer than solvents, caustics and acids
Media is an odor-eater
Clean up is relatively easy